Aaron Wheatley - Owensboro, Kentucky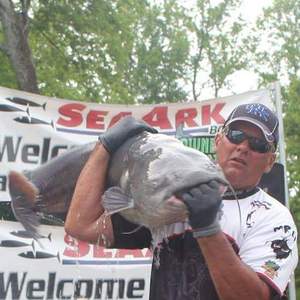 "An injury put me out the game after 20 years on the softball field. I've always been competitive since I was a kid and was needing to find something to fill that void. After hooking into that first Bluecat over 30lbs, I knew I'd found just that. In just nine short years, I've started one the biggest catfishing tournaments in the country, fought side by side with other anglers from Kentucky to have regulations on catfish in my state, and even lucked into catching several fish over the 50lbs class. I've finished well in several tournaments in the past four years and love introducing new anglers to the sport."

Current SeaArk Boat: ProCat 200

"My boat of choice has been SeaArk Boats from the very beginning. I've been catfishing out of one for about five years with my partner. I have dreamed every day of owning one myself and now it's finally coming true. I've fished out of plenty boats but none have measured up. I'm so happy to finally say, I drive a SeaArk!"
To learn more about Aarons tournament Monsters on the Ohio, please click here: www.monstersontheohio.com

Justin Conner - Culloden, West Virginia
"I grew up fishing around my house as a kid and got into the sport of catfishing in the early 2000's. I've been hooked ever since. Myself and my fiancé purchased our first SeaArk in 2012, a ProCat 240. We then started The Catfishing Duo in 2015 and fishing tournaments as well."

Current SeaArk Boat: ProCat 240

"I'm very excited to have this awesome opportunity. SeaArk is the most comfortable set up there is for catfishing. I love to be able to let others enjoy fishing and the best way to do that is in a SeaArk."
Biggest Catch: 90 lb Blue and 67 lb Flathead
To learn more about booking a guided trip with The Catfishing Duo, please click here: The Catishing Duo
Tabitha Linville - Milton, West Virginia
"I've been fishing since I was a kid and big enough to hold a fishing pole. I was able to get into the sport of catfishing when my how fiancé took me on a date. I've loved it ever since. We've since purchased a SeaArk and then started a guide service, The Catfishing Duo. "

Current SeaArk Boat: ProCat 240

"I'm so honored for the opportunity to work with SeaArk. This is an opportunity of a lifetime and something we have dreamed about for a long time. Having this just shows that hard work and courage can pay off."
Biggest Catch: 83 lb Blue and 65 lb Flathead
To learn more about booking a guided trip with The Catfishing Duo, please click here: The Catishing Duo
Doug Rice - Bluffs, Illinois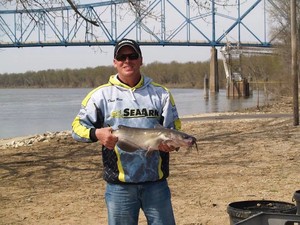 "My true passion is channel catfishing. From lakes to rivers and state to state, I have chased those channel cats for most of my life.I also love chasing those monster blue catfish that swim in the fast flowing Mississippi & Missouri Rivers. I can get out on those big waters in my SeaArk ProCat 200 with confidence."
Current SeaArk Boat: ProCat 200

"With this boat and motor package, you will lead the pack to your favorite fishing hole come tournament day. Boat control is a breeze while drift fishing lakes or fast flowing rivers. What I also like about the Procat 200 is the ease of the towing and the storage once I arrive home . The ProCat 200 has all the great features of the Procat 240, but in a 20′ model. This boat will soon be one of SeaArk's #1 selling tournament boats. SeaArk Boats are truly built for a lifetime!"

Phil King - Corinth, Mississippi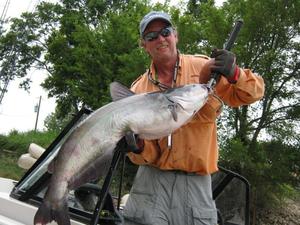 Owner/Operator of Phil King's Catfishing Guide Service, fishing the TN River 33 years and guiding for 12. Phil has won four National Team Catfishing events – Cabela's King Kat 2003, Big Cat Quest 2007, 2009, and 2011. Phil also landed the first catfish over the century mark weighing 103.10 lbs in a modern day catfish national event in 2007.

Current SeaArk Boat: ProCat 200

"The best thing about SeaArk was everything on my wish list for a catfishing rig was either standard or you could order as an option. The best option is the big live well for those giant catfish we seek to catch and release."

If you are interested in booking a guided tour with Phil please visit www.h2ow.com/catfish/ or by calling 662-286-8644.

Jon Warden - Festus, Missouri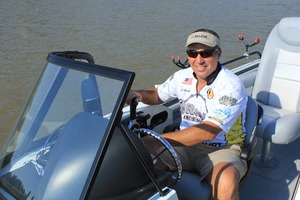 "My passion and expertise would be drift/suspend fishing big water and back bouncing large river systems. I enjoy and excel in what I like to refer to a finesse fishing for big Blue Cats. My home waters of the Mississippi river offer some of the best fishing in the world, along with some of the roughest water and swiftest current you will find. That being said, my SeaArk is the only boat I have found that safely handles it with ease."

Current SeaArk Boat: ProCat 240

"After my first ride in a SeaArk I knew it was the "boat of boats" for what I do. With the 15 degree all welded hull, the ProCat 240 handles the roughest conditions with ease while anglers in lesser boats are sidelined. When the wind and waves pick up during a tournament the extra stability of the ProCat will keep your baits more stable and give you that extra edge that often makes all the difference. When you do finally have your limit in the boat and are headed for the weigh-in, the giant 80 gallon live well removes any worry about loosing a fish. On the off weekends the ProCat also makes a great ski and tubing boat. The open floor room and extra seating are great for relaxing with the family for a day on the water. In my opinion it's the best boat on the market for what I do, and with the available options can be set up for most any use."

Daryl Masingale - Paragould, Arkansas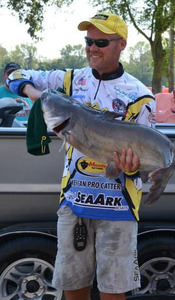 "I am not sure that I have one distinct specialty, I strive to be the best fisherman I can be in all situations. If I had to pick one, it would probably be fishing for giant blues on the large rivers like the Mississippi and Ohio rivers. There is nothing like the excitement you experience when fishing the big rivers and see the rod doubling over and not knowing just how big the fish on the other end of the line might be. I really love the challenge of finding new areas on the big rivers that hold giant blues and then applying the best technique to catch them whether it be drifting, dragging, bouncing, suspending, walking, or anchoring."

Current SeaArk boat : ProCat 240

"Quality, design, and durability are the things that sets SeaArk boat apart from other boat manufacturers. This is what every boat owner looks for when making the decision to purchase a new boat. I am just like everyone else, I am looking for the total package not just one option that is the better than the rest. This is why I choose SeaArk, they don't settle for just "good enough", they strive to be the best, and it shows in the boats they produce!!!"
Chad Ferguson - Fort Worth, Texas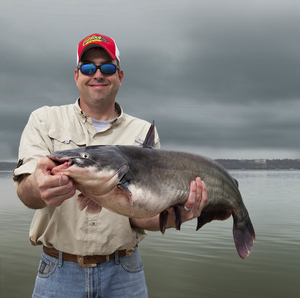 "I've been fishing since I was old enough to hold a fishing rod and eventually gave up fishing for anything but catfish. That eventually led to me founding North Texas Catfish Guide Service and Catfish Edge. I love catching catfish of all species, big and small, but my true passion is catching trophy class blue catfish. When I see the fishing rod double over and the drag start slipping it all comes back to me. I get just as excited today as I did the first time I caught a monster catfish! The only thing that can top reeling in a big blue catfish is to watch someone else in my boat catch a trophy class cat, especially a child."

Current SeaArk Boat: ProCat 240

"When I first laid eyes on a SeaArk boat it was obvious they were above and beyond anything else available. The attention to detail and quality construction is second to none. SeaArk offers all the features I look for in a catfish boat and even some I didn't know I was looking for! If you're looking for a battle ready boat that's built for the long haul there's no question you need a SeaArk."

If you are interested in booking a guided tour with Chad please visit www.catfishedge.com.
Jason Masingale - Paragould, Arkansas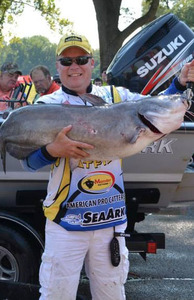 "I truly enjoy chasing and trying to catch all species of catfish in all types of waters, but what is most exciting for me is fishing lakes in search of giant blues. Lake fishing can be the most challenging, but most rewarding, of all types. Water depths, water clarity, structure, and thermocline all play an important part in putting together a successful day on the water. When all these pieces of the puzzle come together the reward can be multiple 50 plus pound catfish on the lines at the same time."

Current SeaArk BOAT: ProCat 240

"Traveling across the country fishing multiple tournament trails truly puts your equipment to the test. SeaArk boats perform flawlessly and are always up to the challenges that tournament conditions present. Whether it's fishing the windy lakes of east Texas, the current of the Mississippi, or the waves of the Ohio River, our SeaArk boat has brought us home safely. The ProCat 240 is built to withstand the harsh conditions that mother nature may throw your way. Its 15 degree V-hull provides a smooth ride in the roughest of conditions. It is SeaArk's superior quality, warranty, and workmanship that truly make it a boat that is built for a lifetime."